---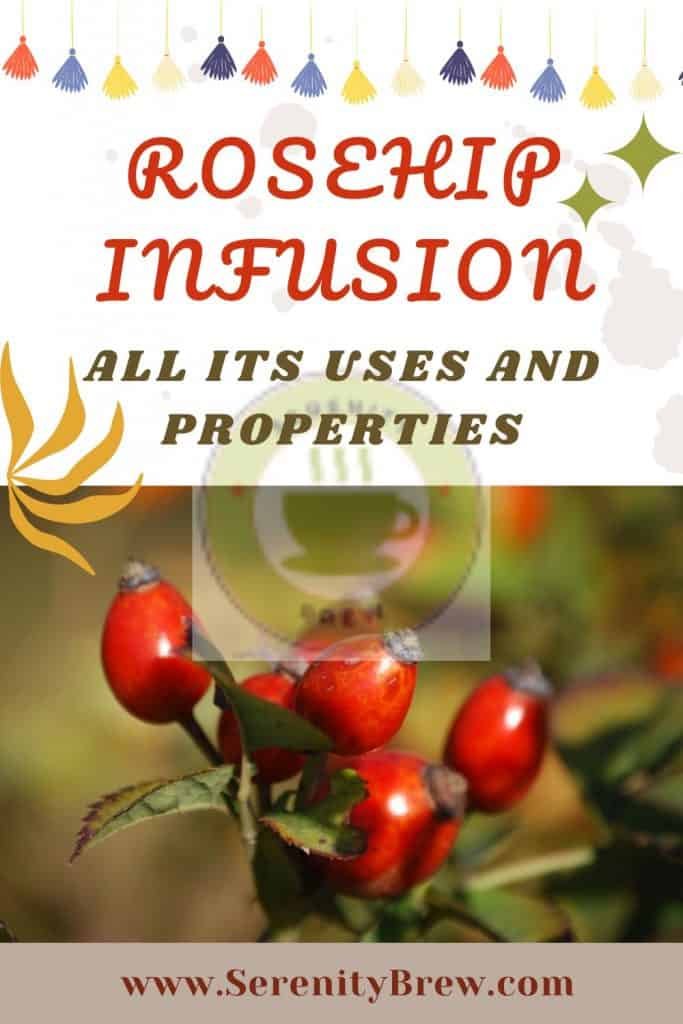 The rosehip reminds many of us of our grandparents. This plant, originally from Europe, is also cultivated in countries such as Argentina and Chile and is famous for its rejuvenating properties. In fact, there are numerous cosmetic products that include it among their ingredients.
Today we want to talk to you about the rosehip infusion, but this plant is used in different ways. Its oil, for example, is widely used to make anti-wrinkle creams, while its fruits, called rose hips, are used to make jams and sweets.
---
Properties and benefits of rosehip
Increase defenses
The rosehip infusion is historically used as a way to increase defenses and improve the immune system. Although we have not found specific research on this variety, it is proven that plants in the Rosaceae family contain high doses of vitamin C.
Vitamin C is essential for the proper functioning of different body processes, such as development, growth, and tissue repair, as well as collagen formation, healing, bone maintenance, and the immune system. For this reason, it is usually recommended to increase the consumption of vitamin C when winter approaches, as a preventive of possible colds or flu. All these infusions are indicated for these cases.
Improves intestinal transit
Due to its diuretic and laxative effect, rosehip infusion would be indicated to relieve heavy digestion and cases of constipation (here is a list of useful infusions in these circumstances). If you have problems with your intestinal transit, it may be time to try this tea.
Antioxidant effect
Rosehip is a source of beta-carotene and antioxidants, such as vitamin C and flavonoids. These last substances fight against free radicals helping to prevent different degenerative and cardiovascular diseases and even cancer. In a study comparing fruits from different plants, rose hips were found to show the highest antioxidant effect.
On the other hand, beta-carotene helps to boost vitamin A, slowing down premature aging along with its antioxidant property. Remember that you can drink rosehip infusion or consume its fruit in the form of jam or other sweet preparations.
Regenerates and nourishes the skin
In this case, the plant is used in the form of oil. Rosehip oil is rich in essential polyunsaturated fatty acids. Both linoleic and linolenic acid regenerate the skin by stimulating the production of collagen and elastin.
Reduces skin marks
Topical application of rosehip is recommended to improve the appearance of scars, sun spots, and wrinkles. In fact, some research has suggested that its regular use during pregnancy could help prevent the appearance of stretch marks. However, the data is not conclusive.
Revitalizes the skin
Rosehip is believed to work internally by revitalizing the cells that produce elastin and collagen, thereby helping the skin maintain its firmness. On the other hand, Ayurvedic medicine usually advises its use after sun exposure to avoid the dreaded photoaging.
Treatment of wounds and burns
We have already talked in some cases about how infusions of plants such as green tea can help improve skin-related problems. Another of the traditional uses of the rosehip is the treatment of wounds and burns. Its richness in vitamin C helps improve the appearance of the skin and, added to its anti-inflammatory effect, it would serve in the treatment of skin ailments.
Hair care
In case of dandruff or eczema, it is usually recommended to massage the scalp with rosehip oil. Its nutrients would improve symptoms, helping to have silky and shiny hair.
Anti-inflammatory effect
Alternative medicine has been using it for years to treat inflammation, including arthritis. A study noted that it was possible to test the anti-inflammatory effect of this ingredient in its powdered form, making it beneficial for arthritis and irritable bowel syndrome.
---
The rosehip plant
Belonging to the Rosaceae family, the rosehip, or by its scientific name Rosa eglanteria , is a large shrub (more than 2 meters high) that stands out for its long, thin and curved stems covered with thorns. Its leaves are oval, with jagged edges and its white and pink or simply pink flowers are crowned by a vivid yellow stamen.
From each flower, the plant bears an ovoid-shaped, reddish-colored fruit, to which all kinds of health properties are attributed.
Its most widespread use is ornamental, being cultivated to decorate gardens due to its great resistance to temperature changes, drought, soil alkalinity levels and diseases.
However, the rosehip is also used in gastronomy, mainly in the preparation of jams and liqueurs, which combine sweetness and astringency in equal parts.
---
How to prepare rosehip infusion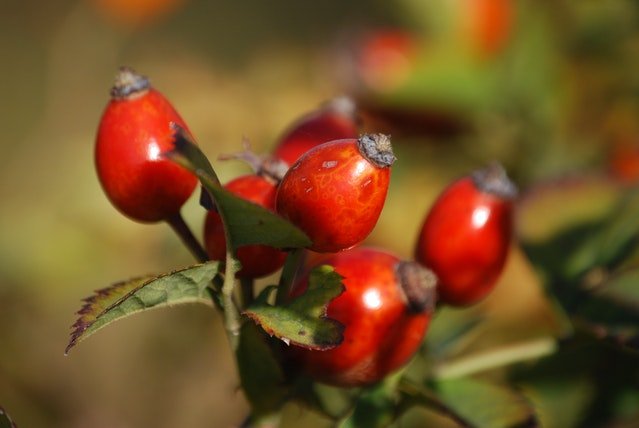 Currently, we can get this infusion in bags in most supermarkets and of course, in bulk in our trusted herbalist.
If you follow us regularly, you must already be an expert in infusing herbs. Therefore, preparing a rich cup of rosehip infusion will have no major mysteries for you.
As always, the first step is to choose the water to use. Remember that if the water in your city has too much lime, it would be advisable to use mineral or filtered water. Heat the water without letting it boil and infuse a teaspoon of rosehip per cup. Let stand about 5 minutes and drink.
If you want to prepare the infusion with the fruits, clean them thoroughly, removing the external hairs. Cook them in the oven for about 20 minutes, ideally stirring regularly to prevent burning. Once ready, grind them. To prepare the infusion, follow the steps above.
The rosehip infusion has a fruity and sweet flavor that will surely appeal to most palates. Accompany your cup with a smooth and creamy dessert, you'll love it!
---