---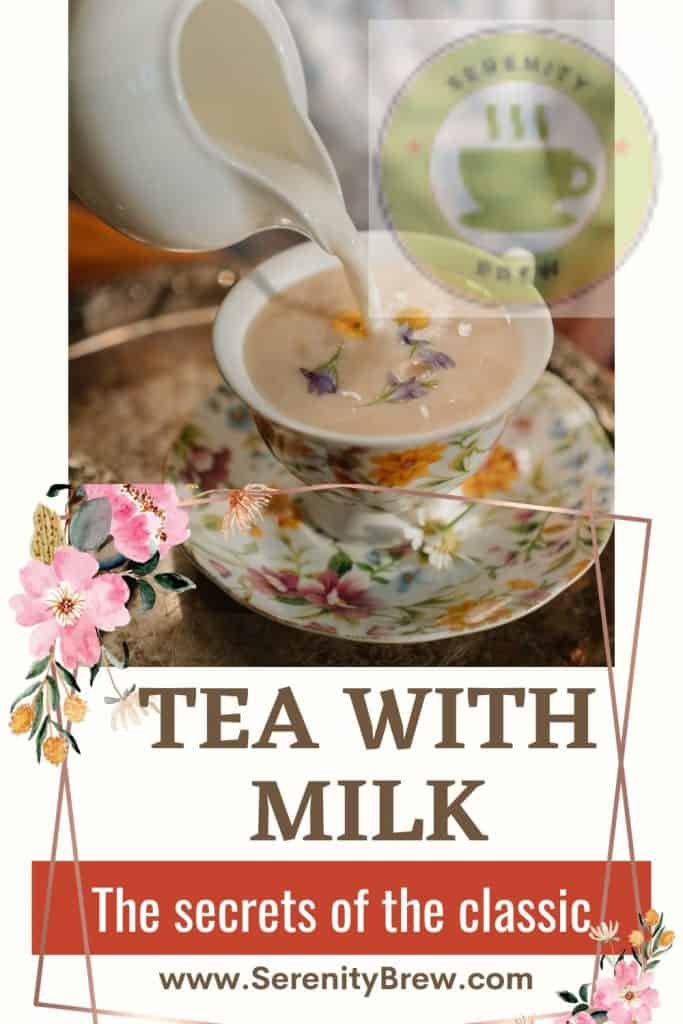 Milk tea is one of the most consumed classic combinations in the West for breakfast and snack. Let's face it, who doesn't love the creaminess and smoothness that a splash of milk gives their cup of tea?
This winning combination delights adults and children, but when and where was this invention born? Is it only for black tea or for other teas? Is there a secret to preparing the perfect cup of tea with milk? In this article, we tell you everything.
---
What teas go well with milk?
The teas that tend to be combined with milk are those with more intense and concentrated flavors, such as black tea. Teas such as Darjeeling, Ceylon or black tea blends such as Earl Gray or English breakfast teas are wonderfully suitable for combinations with milk. However, the possibilities go further.
Teas like red or pu-erh are delicious with a little milk. Also some oolong from its most intense spectrum or some greens with more character. Matcha tea, for example, can even be infused with milk instead of water for an even creamier texture. Of course, you can add milk to some herbal teas, like chamomile.
And which ones don't
On the other hand, it is not advisable to add milk to teas with more delicate flavor profiles, such as white and most green teas.
Of course, we are not going to tell you what to do. If you like to add milk to any tea, go ahead!
---
Varieties of milk that can be used
To accompany your tea you can choose the variety of milk that you like the most. Among the options, you not only find whole and skimmed milk, but also vegetable milks such as almond, soy or coconut milk. In fact, vegetable "milks" can impart a special character to your tea. Nut milk, for example, can give your cup a unique creaminess to your cup.
If you have powdered milk in your house, you can also use it. In this case, you add the indicated amount per cup of water.
Other idea? Those with a sweet tooth can mix the tea with condensed milk or cream. We do not need to tell you that with these mixtures you increase the amount of calories considerably.
---
Brew the perfect cup of milk tea
Traditional milk tea is prepared with black tea (whatever you prefer: English Breakfast, Darjeeling…) and hot or cold milk. In winter, we recommend preparing it with hot milk, while in summer it would be more refreshing with cold milk.
A very easy way to put a very effective spin on a milk tea is to make it with foamed milk. The result is much creamier and more colorful.
A very simple way to make frothed milk is to pour half a glass of cold milk into an empty plastic container, close it and shake like a cocktail shaker. In a minute and with hardly any mess, you'll have enough milk foam for your tea.
Elaboration
Heat the water to the recommended temperature. In the case of black tea, it is recommended to heat it to 95º C.
Steep the tea bag or loose tea for 5 minutes
Heat the milk without letting it come to a boil.
Serve the tea and add the milk to taste.
Stir to blend the flavors and serve.
You can add honey or sugar, if you wish.
---
Benefits of milk tea
Various studies have shown that tea, in its different varieties, provides a large dose of antioxidants, molecules capable of fighting free radicals, preventing oxidative stress and the damage they can cause to the body. In this way, antioxidants could protect the body from cardiovascular and degenerative diseases and even cancer.
Popular wisdom indicates that combining tea with milk would imply adding its benefits. Thus, we would obtain an antioxidant drink with a great contribution of calcium, a mineral necessary to maintain bone health. However, experts suggest that this blend may not be as beneficial as might be assumed since the casein present in the milk would inhibit the catechins in the tea. This means that the milk interacts minimizing the antioxidant action of the tea.
It is worth noting that, in any case, this interaction would not be negative for health. With which, if you like tea with milk, nothing prevents you from enjoying it every day.
---
History of milk tea
When we talk about tea in the West, we associate its consumption with the English and their tea "at 4 o'clock". However, tea is an oriental drink. In fact, it did not reach England until the middle of the 17th century when Thomas Garraway started selling it in his London shop.
However, when diplomatic problems with China arise and trade relations between the two countries are cut, the supply of said drink begins to be scarce. At that moment, a new tea seller appears: India.
Thus, the English islands began to receive Assam tea, a strong and malted black tea, from that country. As its flavor was more intense and concentrated than that of the green tea to which they were accustomed, tea drinkers began to add milk to the famous English Breakfast.
---