---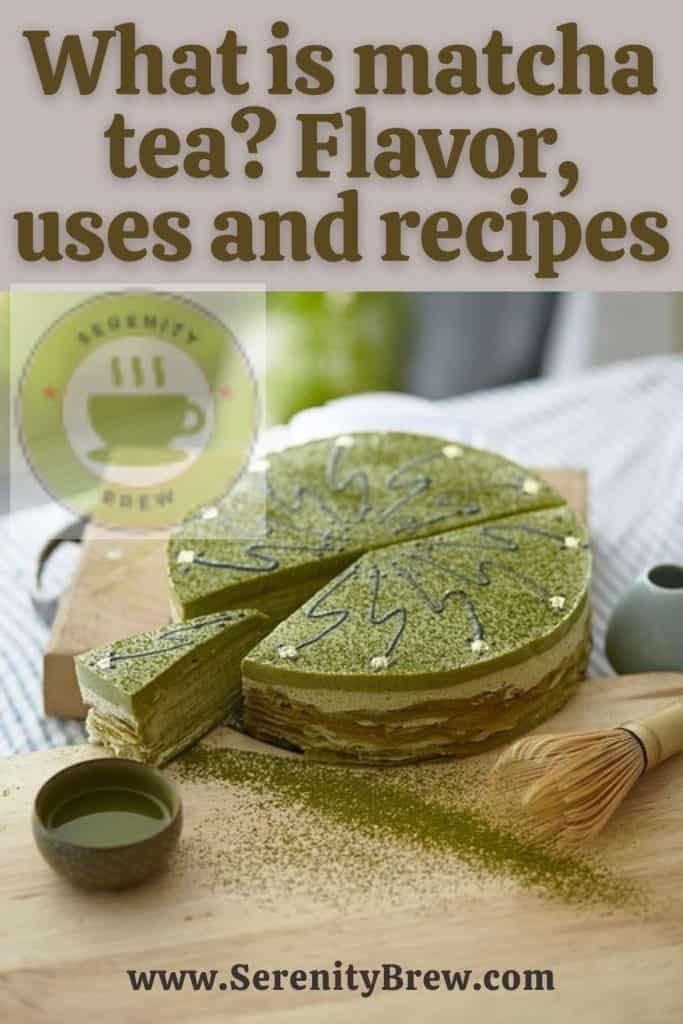 It's ateawidely consumed in Japan because it has infinities of beneficial properties for health, the meaning of its name is "rubbed or ground tea". The first to consume this ground tea were the Chinese, but the Japanese were the ones who perfected its preparation. In this post we will talk about what matcha tea is , flavor, uses and recipes.
In ancient times, this green tea powder was reserved only to be drunk during Sado (Japanese ceremony). In addition, it is a tea that dissolves easily in water and is obtained through a very special process of cultivation, harvesting and elaboration.
---
What does matcha taste like?
Since it is found in powder form, its health benefits are much more effective than those that come in sachets. Experts agree that its compounds in a cup are the most suitable for the body.
The flavor of matcha tea is strong, almost as much as the assam tea. And maybe at first it's hard for you to get used to it. However, many who have tried it say that the taste of it is incredibly unique. To give you an idea of ​​what it tastes like, it is a powder that tastes somewhat like fresh grass and spinach. It is very pleasant to the palate.
Some say that its flavor is very similar to green tea, but more concentrated, you don't feel that bitterness that characterizes it. In addition, it can be mixed with sweeteners and other ingredients to make the experience better. Other people say that it tastes like fish, but that indicates that moisture or heat has damaged the powder, or it is of poor quality. Its smell should actually be grassy and when tasted it should have a light and creamy taste.
Uses of matcha tea
Matcha tea is one of the most popular and is also used to prepare recipes for dishes and in pastries. For example, in Japan it is used in the preparation of chocolates, noodles, cakes, soups, ice cream, candies and a wide variety of sweet and savory foods. In fact, supermarkets in that country stock entire sections of matcha-based products on their shelves.
On the other hand, in the West, matcha tea is used in the preparation of smoothies, cookies, flans, yogurt, ice cream and even cocktails. But this tea not only stands out in the kitchen, it is also used in the cosmetic sector. Its antioxidant and antibacterial properties have made it ideal for making homemade masks. For the skin it is excellent, it prevents its premature aging allowing to have a beautiful complexion.
---
Matcha tea properties
Next we will talk about matcha tea and its properties:
Strengthens the immune system. The antioxidant substances EGCG (epigallocatechin gelate) that make it up make this property possible.
Eliminate liquids. Matcha tea has the ability to reduce fluids, because it stimulates kidney function. Replace the morning coffee with a cup of matcha tea, and you will see that in a short time you will check its diuretic effects.
Burn fat naturally. Its process to eliminate fat is given by the amount of polyphenols it contains and that help speed up metabolism.
Reduce the cholesterol. Due to its powerful antioxidant properties and its EGCG content, matcha tea is effective in eliminating atheromatous plaques, it cleanses the arteries.
It brings vitality. Drinking a cup of matcha tea at breakfast will give you the energy you need to start the day. The energy contribution is made possible by L-theanine.
It reduces stress. L-Theanine helps the mind relax and decreases stress by increasing alpha waves.
Keeps skin healthy. It has anti-inflammatory and antiseptic power, showing smoother and brighter skin.
Fight constipation. Its high content of dietary fiber improves intestinal transit and also stabilizes blood sugar levels.
However, the properties and contraindications of matcha tea that are attributed to it is that the level of caffeine it contains can cause insomnia, irritability, headaches, increased heart rate, etc.
---
Recipes that use matcha tea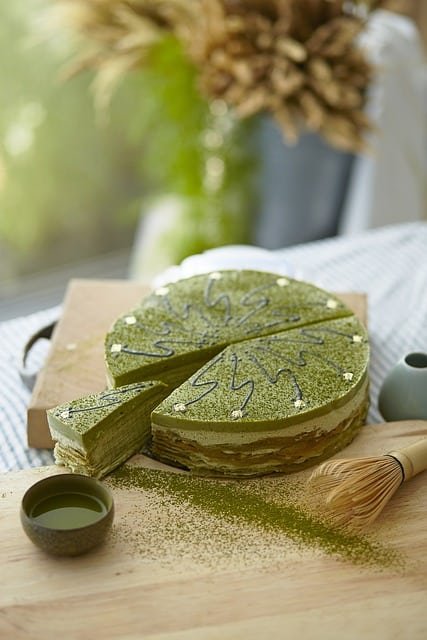 You can prepare a number of recipes with matcha tea , here we will tell you some.
Matcha Latte
You will need the following ingredients:
250 ml of vegetable drink (coconut, soy or oat milk).
70 ml of hot water.
Sweetener.
 tablespoon of matcha tea.
Preparation:
Mix the tea well with the hot water, until everything is integrated.
Then you need to foam the vegetable drink by heating it.
Add the vegetable drink over the matcha tea .
Matcha tea bonbons
Do not think that because it is vegan the recipe cannot be exquisite. These chocolates are made with white chocolate, a cocoa butter base and of course sprinkled matcha tea .
Banana bread with matcha tea
Banana bread is very popular, it is humble in nature, but with great flavor and texture. You will think that because it is a simple recipe when made with leftover bananas. But if you want to dress up this preparation, matcha tea will do the job. What you should do is add 2 tablespoons of this tea to your banana bread recipe.
Yokan
Yokan is a sweet made from bean paste, agar, sweetener, and some additional flavorings. In Japan, the use of matcha tea is common in desserts in which the beans and the tea itself are present. The beans can be canned.
matcha tea cake
You can make a delicious whipped cream cake, and you can add a little matcha tea and beans. If you see it, it's a very light recipe with a simple cream and sweetened red beans. Very rich and healthy.
buttercream march
It is the typical cream of butter and powdered sugar, but we will add matcha tea . We must have the following ingredients:
1 cup of butter at room temperature.
4 cups of sifted powdered sugar.
2 tablespoons of milk.
2 tablespoons of matcha tea .
It is prepared as follows:
Add the butter to a large bowl, then the sugar and beat with an electric mixer on medium speed. Little by little the sugar is added, the tea powder is added. Beat until everything is mixed well.
---