---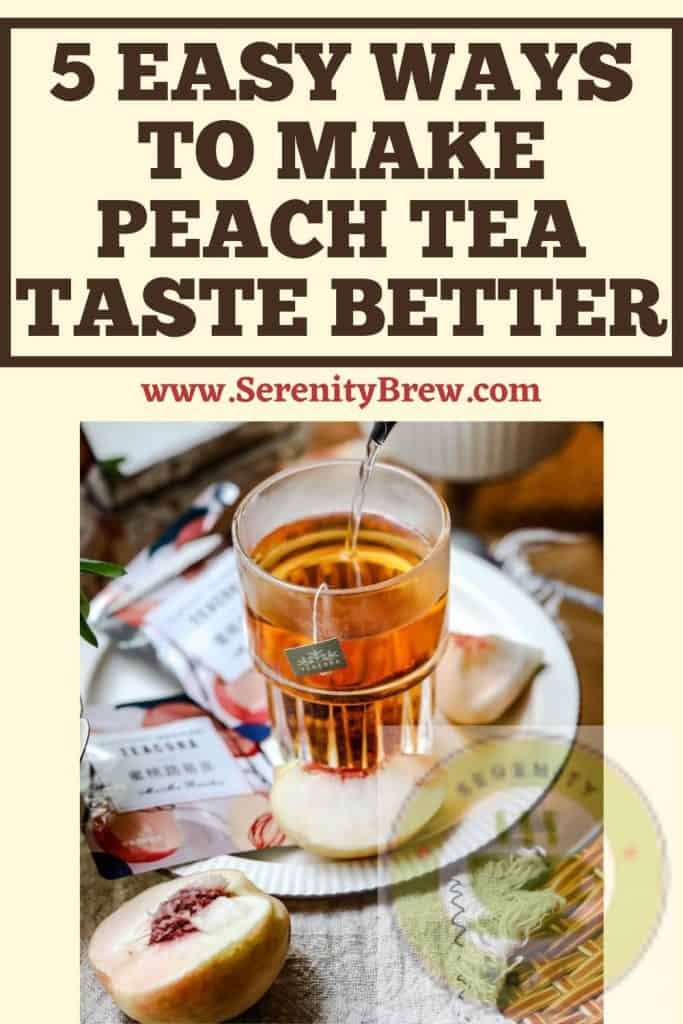 It is a delicious drink that when the weather is good you want to drink it cold to cool off, but it is also drunk hot in cold seasons. It is a tea that by itself is very aromatic and in a cold drink it can be mixed with other ingredients. In this post we will talk about how to make peach tea taste good.
It is a typical drink in cocktails and soft drinks, because it is easy to prepare and it is refreshing. It is born in China and is drunk all over the world. Among its properties is its high content of antioxidants, has vitamins and is diuretic. Other of its properties are:
Avoid constipation.
Improves intestinal transit.
Avoid cardiovascular diseases.
Strengthens teeth, hair and nails.
Improves the skin.
Eliminates excess fluid in the body.
It helps to lose weight due to its antioxidant properties.
---
1. How to make peach tea taste good. Peach infusion with lemon peel
This drink is very simple to prepare and will require the following ingredients:
300 grams of peaches.
30 grams of green tea.
A lemon peel.
A liter of water.
To prepare it, follow these steps:
Boil part of the water.
Green tea and lemon peel are then added.
Infuse for ½ hour, lower the heat and let it rest for 15 minutes.
Next, chop the peaches into small pieces and crush them. Don't remove the skin.
Strain the preparation and change the container.
Add the peach puree and the rest of the water.
Mix well.
Ready, drink it!
---
2. Peach tea
Another way to know how to make peach tea taste good is by preparing it with Earl Gray tea. It has a lot of aroma due to the bergamot and it fits perfectly with the flavor of the fruit. The ingredients are the following:
A ripe peach.
A cup of water.
100 grams of brown sugar.
1 ½ liter of water.
To prepare it, do this:
First you have to prepare a peach syrup: cut the peach into strips and reserve.
Put the water with the sugar on the heat in a pot (it must be allowed to dissolve completely).
Add the peach strips and cook for about 5 minutes. It must be removed so that it does not burn.
Remove from heat and let rest.
Boil the 1 ½ liter of water. We remove from the fire.
Infuse the tea, which does not exceed 4 minutes, because it can become bitter.
After the syrup has rested for half an hour, it is strained and the tea is added.
Mix everything and let it cool in the fridge.
Once cold, serve in long glasses with two ice cubes.
---
3. How to make peach tea taste good. Smoothie with peach tea, bananas and chia seeds.
This nutritious recipe is easy to prepare and requires the following ingredients:
Two cups of milk.
125 grams of strawberry.
A Cup of tea peach.
A banana.
A tablespoon of chia seeds.
Two spoons of sugar.
Two spoons of sugar.
The juice of half an orange.
It is prepared like this:
Chop the strawberries and the banana and add them to the blender, with the milk, the peach tea and the sugar.
If the preparation thickens too much, then add a little more milk or orange juice.
Serve and add the chia seeds, voila! Enjoy this delicious smoothie.
4. Jello with peach tea and yogurt
To learn how to make peach tea taste good, this recipe that incorporates gelatin is useful. Its ingredients are:
8 envelope of gelatin.
A liter of hot peach tea.
4 peaches in syrup.
A cup of milk.
Three cups of unsweetened yogurt.
To prepare it, it is done as follows:
Dissolve a gelatin in the hot peach tea, when it is lukewarm it is placed in a mold.
Add the pieces of peaches and reserve some to decorate.
Put in the fridge to chill.
Mix the yogurt and sugar.
Now mix the rest of the gelatin in the milk and let it rest for 5 minutes.
So that the gelatin is completely dissolved, it is heated in the microwave for 15 seconds and the yogurt is added.
Then, it is poured over the peach tea jelly and chilled for an hour until firm. It is garnished with some pieces of peach.
---
5. Peach and raspberry tea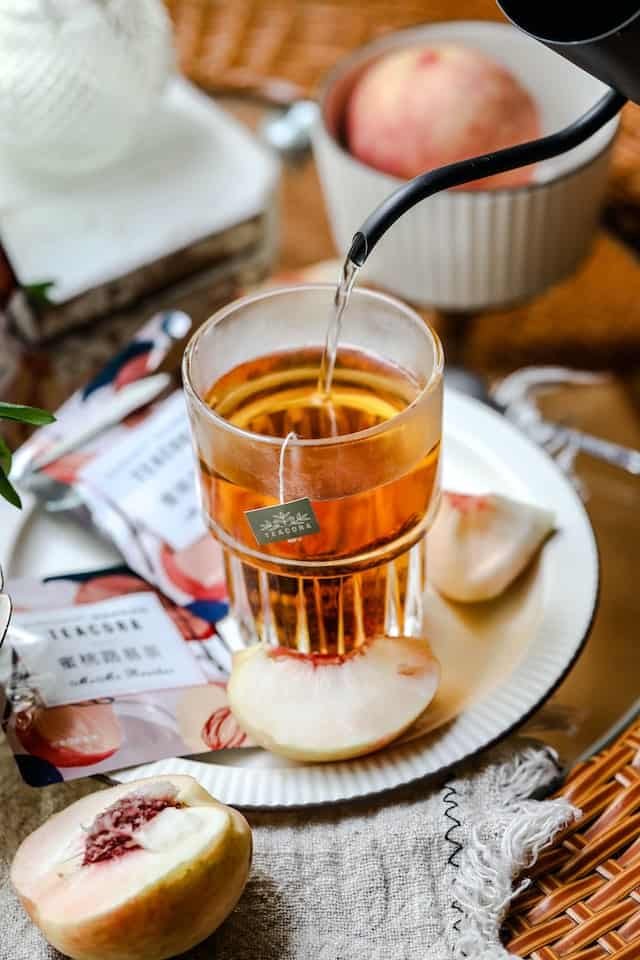 This drink is excellent for summer days, trying other options to the classic, but with the benefits of the two fruits. The following ingredients must be gathered:
4 peach tea bags.
A quarter of a kilo of raspberry.
Juice of a lemon.
Sugar.
Ice cubes.
Some mint leaves.
This drink has antioxidant properties, excellent for preserving the skin and counteracting the effects of external agents. It must be done with these steps:
The first thing to do is prepare peach tea, incorporating hot water and sugar.
Then, add the lemon juice, 200 grams of raspberry and a little water in a container. Mix everything until it has the consistency of a puree.
Strain and reserve.
Mix the raspberry preparation with the peach tea.
Add the rest of the raspberries.
Serve in wide-mouthed glasses.
---