---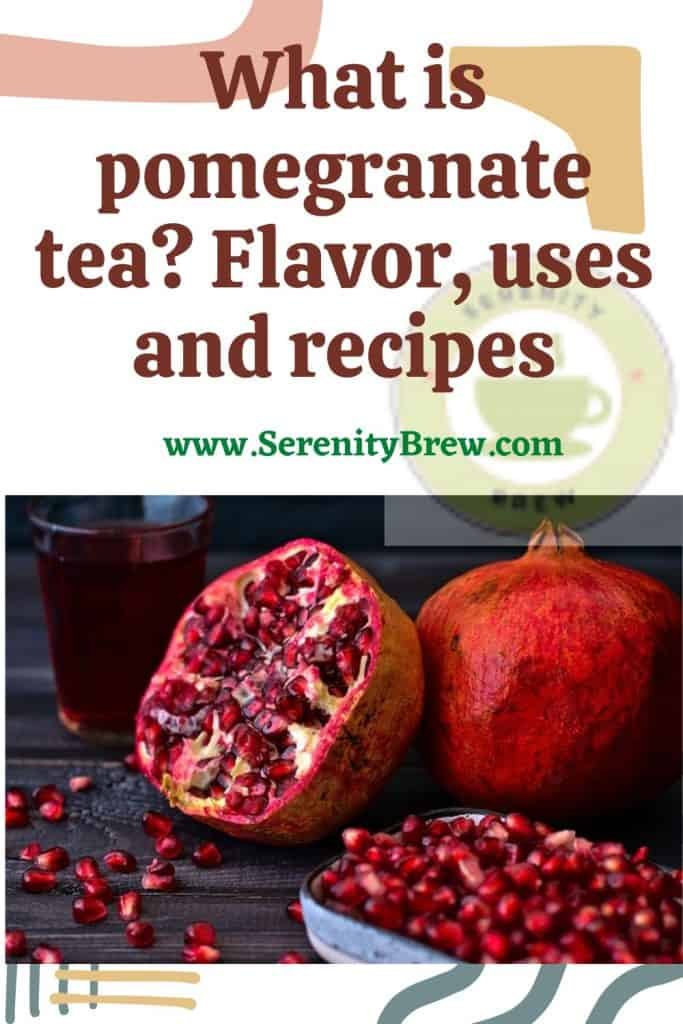 The pomegranate is a fruit that has amounts of healing properties for health, in the form of an infusion it is a rich drink full of antioxidants. Being low in sodium, it is excellent for those who suffer from hypertension or fluid retention. In this post you will learn what pomegranate tea is , flavor, uses and recipes.
The fruit is slightly sweet and its seeds are edible, with which you can make salads, juices or yogurt. In addition, tea is prepared with its peel and its extract is used by the industry to prepare food supplements.
---
Pomegranate Tea Uses
To know this fruit well, let's know the benefits of pomegranate tea:
Prevents cancer. Being rich in flavonoids and tannins helps prevent some types of cancer, such as breast, prostate, lung and skin.
Avoid Alzheimer's. Its antioxidant and anti-inflammatory compounds help neurons maintain their functions. Therefore, memory improves and Alzheimer's disease is avoided.
Avoid cardiovascular problems. By containing antioxidants and anti-inflammatories, it increases good cholesterol and reduces bad cholesterol. This helps prevent cardiovascular diseases, myocardial infarction and atherosclerosis. In addition, it reduces blood triglycerides.
Strengthens the immune system. The fruit is rich in vitamin C and as it contains antioxidants, it inhibits the formation of bacteria that can damage the intestine. Balances the intestinal flora and prevents flu, colds, herpes and diarrhea.
Control blood pressure. By containing antioxidants, blood vessels relax, facilitating blood circulation, thus avoiding high blood pressure.
Protects the skin. Knowing what pomegranate tea is for is important, thanks to its antioxidants (anthiocyanins, catechins and ellagitannins) they protect the skin from solar rays (UV), avoiding skin cancer. Pomegranate and raspberry tea has benefits that prevent cell aging. Its alkaloids are a great stimulant that helps keep the body active.
Prevents throat infection. The pomegranate properties are concentrated in the peel and stem and prevent throat problems such as laryngitis, pharyngitis and tonsillitis.
Fight diarrhea. Pomegranate tea is useful for diarrhea thanks to its tannin compounds and its astringent properties that increase water absorption.
Prevent diabetes. Maintains the balance of blood sugar, controlling and preventing diabetes.
---
Pomegranate Tea Recipes
One way to learn how pomegranate tea is made is by learning about its recipes. Among them the tea, which consists of combining juice of grenade with freshly brewed tea. It can be black tea, green tea or some herbs.
pomegranate tea
It is prepared as follows:
The base of this tea can be with juice bought in the store, if you make it yourself it will be better, because it will not have preservatives. It is not easy to extract the seeds from the pomegranate, but an infallible trick is to chop the pomegranate and place it in water, remove the seeds that will sink to the bottom and the shell will float.
Remove the shell and place the seeds in the blender and crush them. Avoid splashing because the grenade stains.
In a strainer or a cheese cloth, place the seeds and the pulp, squeeze them until all the juice is extracted and place it in a jug.
Next, prepare the tea, the ones that are best with the pomegranate are black tea or green tea. Although also with mint or chamomile. Boil 100 ml of water and pour it over the tea. Let infuse for 15 minutes. Strain.
Then add the pomegranate juice to the tea and sweetener to taste.
turkish pomegranate tea
In Turkey, tea is prepared using various parts of the pomegranate. The petals they are dried, crushed and stored in a warm and dry place. To prepare Turkish pomegranate tea using petals, one tablespoon of the powder resulting from the petals is boiled in previously boiled water. Let it infuse for 10 minutes and sweeten with natural honey.
Regarding the pomegranate tea prepared with the peel, they are not used as much in the kitchen, but when preparing tea, the dried and chopped peel is used. You can add green or black tea and let it boil. You have to leave it for 2 minutes over low heat. Strain and drink.
If pomegranate leaves are to be prepared for Turkish pomegranate tea , the youngest ones, raw or powdered, are used. It can be drunk hot or cold, add milk or honey to it.
Pomegranate with aubergine and herbs
With this recipe you will spice up your day and here is the step by step of it.
Ingredients:
Four eggplants.
Four tablespoons of melted butter.
½ cup of water.
A lemon.
A cup of fresh pomegranate.
A cup of fresh herbs.
Method of preparation:
Cut the aubergines in half and into squares without reaching the bottom.
Varnish it with the butter.
Put in the oven with the rest of the ingredients at 180º C for 40 minutes.
Treats of prawns, pomegranate and avocado
This tart contains avocado, lime, prawns, salt and olive oil. To prepare it, all the ingredients are combined, peeled and chopped. It is served and eaten.
---
Contraindications of pomegranate tea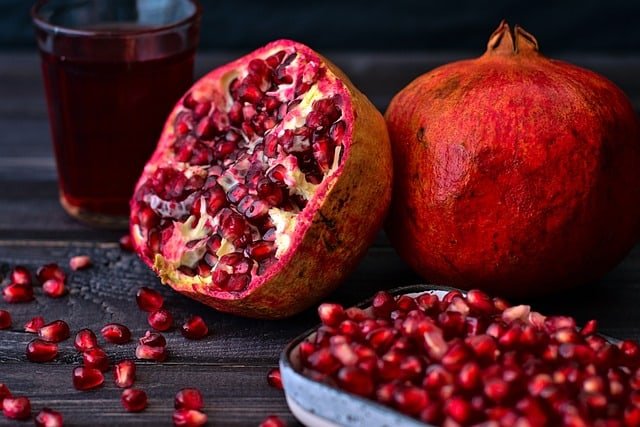 Some of the contraindications of pomegranate tea are:
hypotension If you suffer from low blood pressure, its consumption is not recommended, because it lowers blood pressure.
People suffering from liver disorder. You should consult your doctor if you have any liver problems, because the enzymes in the pomegranate could affect the proper functioning of the organ.
stomach pains. Among the stomach symptoms are: nausea, vomiting, abdominal pain and diarrhea.
---